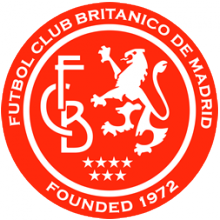 Tournament statistics
233 matches (48.1% win)

9 tournaments
In 1972 a few guys led by Mike Birkett in the British Embassy together with friends who were working in businesses in Madrid got together for a kick around every Saturday morning and FC Británico was born. We currently have 2 teams playing 11 aside football and Fútbol Sala team (5 aside) at the weekends. We also have a vets team which plays from time to time. Players of all abilities are welcome and the club will try to accommodate all players who show a commitment to moving the club forward and a desire to work hard and improve as a footballer. If you're interested in playing for the club please contact us letting us know a bit about yourself.
Members (22)
Jay

(Admin)

DavidGDehesa

(Admin)

GraemeBeaty

(Admin)

jpmemerson

Laurensvanduin

alfon_727

Steven Lambers

olli4k

ameshref

Manu

chama_jah

Maldivo

Tom Grube

Gerry

PabsGK13

joss.awdry

SergioVillamarin

11Andrew11

Joseph M B

charlie alves

angrobmun

Daniel Fernande...
When was your team formed?:
Where does your team name come from?:
From all around the world.
What was your team´s best moment in the league?:
Winning the cup in 2013/2014 & The Second Division in 2014/2015
What are your aspirations for this season?:
What nationalities do you have in your team: