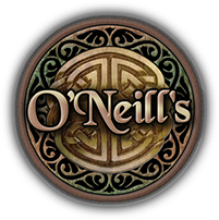 Tournament statistics
239 matches (65.3% win)

21 tournaments
Members (9)
jorge.amago

(Admin)

Alfonso Meneses

(Admin)

JoseLuis Lucas

(Admin)

Richard Obillo

Victor Basa

Luis Andreu

Dani Alarcon

Luis Aguiar

Rod Harrish
When was your team formed?:
Where does your team name come from?:
The name comes from our principal sponsors, O´Neill´s Irish Bars.
What was your team´s best moment in the league?:
Without a doubt our best moment was winning the Cup, IFL and best defence in 2010. ...
What was your team´s worst moment in the league?:
Our worst was probably when we crashed out of the 2011 league in one crucial match against Santana.
How would you describe yor team´s style of play?:
We try to maintain possession of the ball and use the wings as much as possible. We also like to pass very quickly and defend only in our own half.
What are your aspirations for this season?:
As every year, O´Neill´s aspires to clinch the League Title!!
What nationalities do you have in your team:
One Irish guy and the rest are Spanish.
Contact:
Jorge Amago
Jose Luis Lucas